Dear Members and Growers,
Preliminary Notice of the Annual General Meeting (AGM) of the organisation.   With the full notice and details coming up out in the next issue of Mohair News.   
AGM Date – Thursday 23 November 2023.   
AGM Time – 4.00pm EST
AGM Venue – Lazy Lizard Restaurant Located in Gateway Motor Inn 146 – 152 East Street Narrandera NSW 2700. 
Followed by Dinner and Guest speaker at restaurant.  Online Zoom connection will be available to members by prior RSVP for the meeting.  The next day is the AMMO mohair sale in Narrandera.
Newsletters have been updated for Hunter News – winter edition and Mohair News – June Edition.  Check them out on the newsletter tab on the TOP RIGHT hand side when viewing this page.
Important notice – Call for nominations for the National Board of Mohair Australia Ltd notice and form is contained in the Mohair News – June Edition.  Below is the formal notice.
MOHAIR AUSTRALIA LTD
NATIONAL EXECUTIVE
CALL FOR NOMINATIONS
Nominations are called from members of Mohair Australia for the five positions on the National Executive. to take effect from the end of the 2023 Annual General Meeting, for a two-year term of office
To be eligible for nomination you need to hold one of the following memberships prior to 31st May 2023 
Breeder membership
Commercial membership
Life membership
An application form can be obtained from the Returning Officer ([email protected]) or downloaded from www.mohair.com.au
Members who nominate are invited to submit with their nomination form a brief statement of a maximum of 250 words. It is suggested this statement should indicate the nominee's aim for the future of Mohair Australia, and the mohair industry, together with experience you would bring to the position.
Applications close with the Returning Officer on
Monday 31st July, 2023 at 5.00pm.
Nomination forms should be sent to
Returning Officer, Mohair Australia Ltd,
Jo Collins
1737 Myrtle Mountain Road
Candelo
NSW 2550
Sad news from Tasmania.  Sadly another of our Angora family has passed away.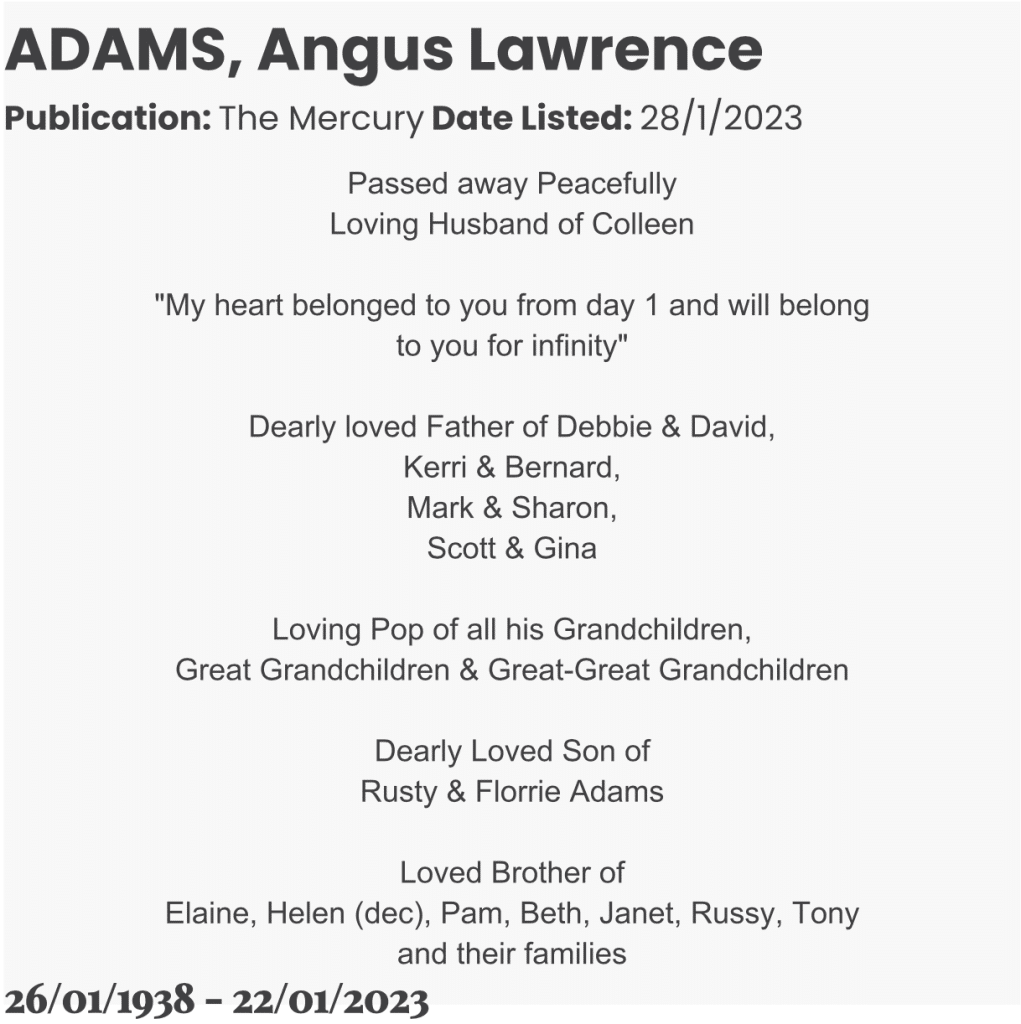 Brian Smith knew Angus very well and wrote a short eulogy of Adam.
Sadly we report the death of the late Angus Adams who
has passed after a long illness.
Many will remember Angus as a long-time breeder of
Angora goats in Tasmania. He imported many goats
from South Australia and shared his genetics with many
breeders in the state.
Angus was a great supporter of the Show circuit and
attended most shows in the state especially the Royal
Hobart Show, he and I supported the show for many
years. We had many tussles he always liked winning
and kept all the ribbons that his goats won, whether
they be placed ones or the broad ribbons, until he had
to downsize his home.
I enjoyed his company for many years, he is sadly
missed by all.

Brian Smith
January 16, 2023
I was shocked to receive a call from Mary Orledge that a member of our goat fraternity, Rob Neske had passed away. Mary sent this message –
"Passed away December 2022 aged 75 years.
Rob was a member of Mohair Australia Ltd Tasmania Division between 2005 and 2020. He kept Angora goats as a hobby and was a regular attendee at shows, meetings and Judge's Dinners. Rob was always a willing helper with setting up, stewarding, and holding goats in the judging line-up.
Farewell to a much-valued member of Mohair Tas.
For more information go to the Mohair Tasmania website – https://mohairtas.org/
Update from Victoria – FOSTER SHOW 
It's Saturday week, 25th February. 
This is the first time angoras have been shown at the Foster Show and it replaces the previous show which was held at Berwick. Highlights
Bring photos of your farm for the photography competition
Several breeders are bringing goats.  If you would like to bring goats and haven't let us know, please reply to this email
Condensed show ring with competitions
Please ensure if you are bringing goats that they have appropriate NLIS ear tags
There will be talks about keeping goats and their care
There will be a stand selling mohair products, demonstrating fleece preparation and spinning.
Promotion of the industry to the general public will be the focus of the day
We hope to see as many Victorian members as possible at Foster.
Blessings
Lill Roberts
______________________________________________________
To who it may concern, 
Unfortunately, NSW Division of Mohair Australia Limited has taken the decision not to run the National Angora Trophy Show & Sale (NATS) this year as it was not possible to find volunteers to organise the Show as it got too late to make the necessary arrangements.
We are most grateful to you for your support of this Event over the years and hope you will continue to support us in the future if we are able to re-establish the Show
NSW division of Mohair Australia Ltd
********
Eastern region has the following activities planned for the year.
The following Shows should have an Angora Section in the coming year: –
21st January Albion Park
4th February Berry 
4th March Goulburn 
10th – 12th April Sydney Royal
I would suggest you check their websites closer to the scheduled dates as they may vary and are dependent on numbers.
********
The December issue of Mohair News is available under the lefthand tab called newsletters on this page. 
It has the recent MAL AGM results and draft minutes; we have also continued the weaning and the first 18 months with two NEW articles from Dr Mackie Hobson from SA Mohair Growers' Association – South Africa.   The Over the Hooks (OTH) prices for goatmeat peaked at 920c/kg cwt in June 2022, which quickly retracted by 47%, to 485c/kg cwt in November (MLA) and we have included a market pulse report from Emma Fessey from Auctions Plus.   
Check out the December issue for more details.
On behalf of the board and the members have a Happy and Safe Holiday Season.
NOTICE – MOHAIR AUSTRALIA LTD
ANNUAL GENERAL MEETING 2022
Friday 25th November 2022
3pm 
Narrandera Ex Servicemen's Club
39-45 Bolton Street
Narrandera NSW 2700
Zoom link (RSVP registration required by the 21/11/22 on [email protected]).
Postponed due to floods – AGRIFUTURES goat fibre RD&E facilitated forum in Wagga 24th November
Hi All,
Just letting you know that due to the flooding situation throughout NSW we have decided to postpone this forum until early February next year – I will send through the details with the new date once this has been organised. 
If you have any questions, please do not hesitate to contact me.
Ellen Buckle
Senior Manager
Tea Tree Oil, Kangaroo, Deer, Buffalo and Goat Fibre
We pass on our sincere condolences to the family and friends of Daryl Finch.  A touching funeral service was held on Friday 26 August in Wagga Wagga, NSW.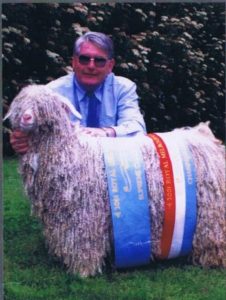 Daryl with "Sunny Ridge Charm" the Supreme Champion and Champion Doe at the 2001 Melbourne Royal Show.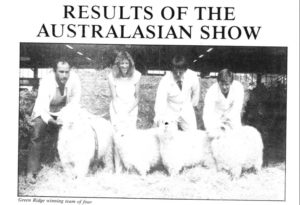 The Greenridge winning team of four at The Australasian Show in 1987.  Daryl 3rd from the left.
The August Mohair News is out now.   
Latest issue of Clippings is also on the newsletter link tab.   
If you have any updates, information or events do not hesitate to share them with us so we can include them on the website and future publications to the members. 
Rivers wins Best in Show at Sydney Royal Easter Show 2022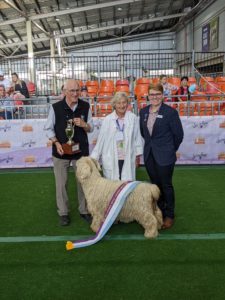 Pictured is Reg Scott, Mohair Australia NSW Division, Judge – Morgan Mrowka and Helene Ypma with Rivers 1906.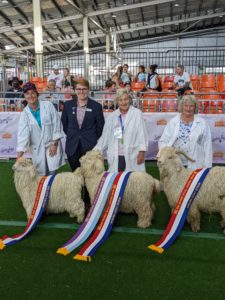 Pictured is Helene Ypma holding Rivers 1906 alongside the two other champions from Cullbookie Angora Stud with Debbie Scattergood holding the buck.  Jess is holding the Champion Junior doe kid for Debbie.  Judge is Morgan Mrowka in the dark coat.  
Tasmania Division Annual Show 2022 report
The website has been updated to show the results from the Annual Show, held at Deloraine on February 20. You can find the report here.
National Angora Trophy Show (NATS) Update
Cullbookie Valentino wins Supreme at NATS in 2022.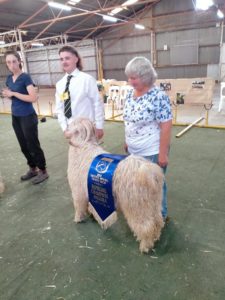 NATS was held at the Peden Pavilion, Goulburn Showgrounds on the 11 and 12 March 2022.   Judge was John Hornweg from Victoria.   Please click on the link to download the schedule.  Click this link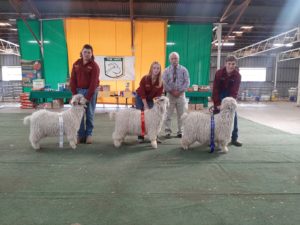 Check out the facebook page National Angora Trophy or #NATS2022 for updates.
FIELD DAY Report from Tasmania
The Mohair Australia Tasmania Division have their own website which has been updated to include a report on Goatfest.   Click this link. 
ON FARM SALE Report – 8th January 2022
Dulark and Lynndon Grove Angora Studs Sale held on the 8th January 2022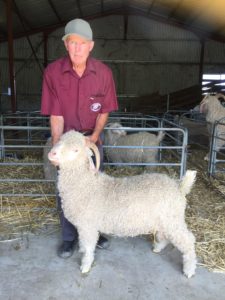 The vendors Nick & Kate Gorrie and Lynne and Don Carter were both very happy with the clearance and attributed the very good results to good local support, underpinned by strong demand from Western Australia and Queensland.
Lynndon Grove averaged $2630 for stud bucks. 5 out of the 7 sold. In the stud does Lynndon Grove averaged $438.90 with 100% clearance will all 9 selling under the hammer. Top price buck was Lot 6 Lynndon Grove Xion for $2800 sold to Jacob Stevens from Qld. Interestingly Lot 1 Lynndon Grove Usher and Lot 3 Lynndon Grove Wilbury sold to a new WA client for $2500 and $2650. Lot 7 Lynndon Grove Xaviel was sold to another new WA stud for $2500. Equal top price in the stud does was Lot 29 and 31 which sold to new WA stud interests for $500 each.
Dulark Stud bucks averaged $1430 with 10 out of the 17 offered selling under the hammer.  One more privately after the sale.  Top price buck was Lot 17 Dulark Stunning Boy which sold for $4300 plus Gst to Joseph Keates from QLD. Other stud buck highlights.
Lot 10 – Dulark Lance sold for $1700 plus GST sold to Susie Paterson from Qld.
Lot 11 – Dulark Laser sold for $1700 plus GST sold to Herman Van Haeff from Billimari NSW
Lot 14 – Dulark Abraham sold for $1600 plus GST to Dr Sue Jordan from WA.
The old boys (lot 8 and Lot 9) sold under the hammer to local Yass support and Joseph Keates from Qld respectively.
In the stud does equal top price was Lot 38, 40 and 41 which sold for $900 plus GST to Susie Paterson from QLD. The stud does averaged $530 with 100% clearance.
The groups of Dulark future breeders and Dulark proven mixed aged breeding does all sold under the hammer. The prices were $200 a head and $180 a head for each group respectively.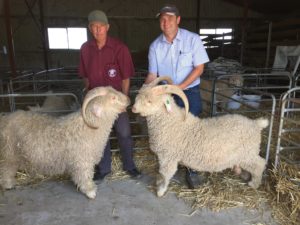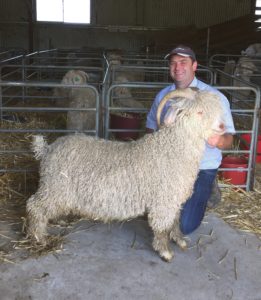 Yours sincerely,
The team at Mohair Australia Ltd.     
Navigating the site
The News page is the logical place to start. Each page has a purpose so you can go there to check. We will update pages occasionally.
Breeders may well want the Herd Book so clicking the second last Name along the top will get you to the start. You need to sign in to see anything other that the membership list and the basic Herd Book information. Under the Log In, enter your membership number as the ID and your password which you get from the registrar – email or phone.
Without logging in you can search the Herd Book on Stud Name, Tattoo or Herd Book Number. ONCE LOGGED IN YOU CAN ENTER A NEW ANIMAL, TRANSFER RECORDED ANIMALS TO ANOTHER MEMBER, or LIST YOU HERD. This last command allows editing you flock to active animals (as opposed to inactive and/or deceased) to reduce the number of animals in your drop down box of breeders. You can always resurrect breeders if you have not recorded progeny before the stock take.