News
This page includes: Important comments, and a list of future and past events with selected photos and results
Up Coming Events
NSW Division meeting 17th May 2020 Diamond Fibre Show (Bathurst) moves to 23rd February
Sydney Royal Easter Show
Big Gun judges Angoras at the 2019 Sydney Royal Easter Show.
George Hope, President of the South African Ram Breeders Society and Principal of Lock Dale Angoras delivered a high-power presence to this year's Sydney Royal Easter Show…….
Click for George Hope's comments on the South African industry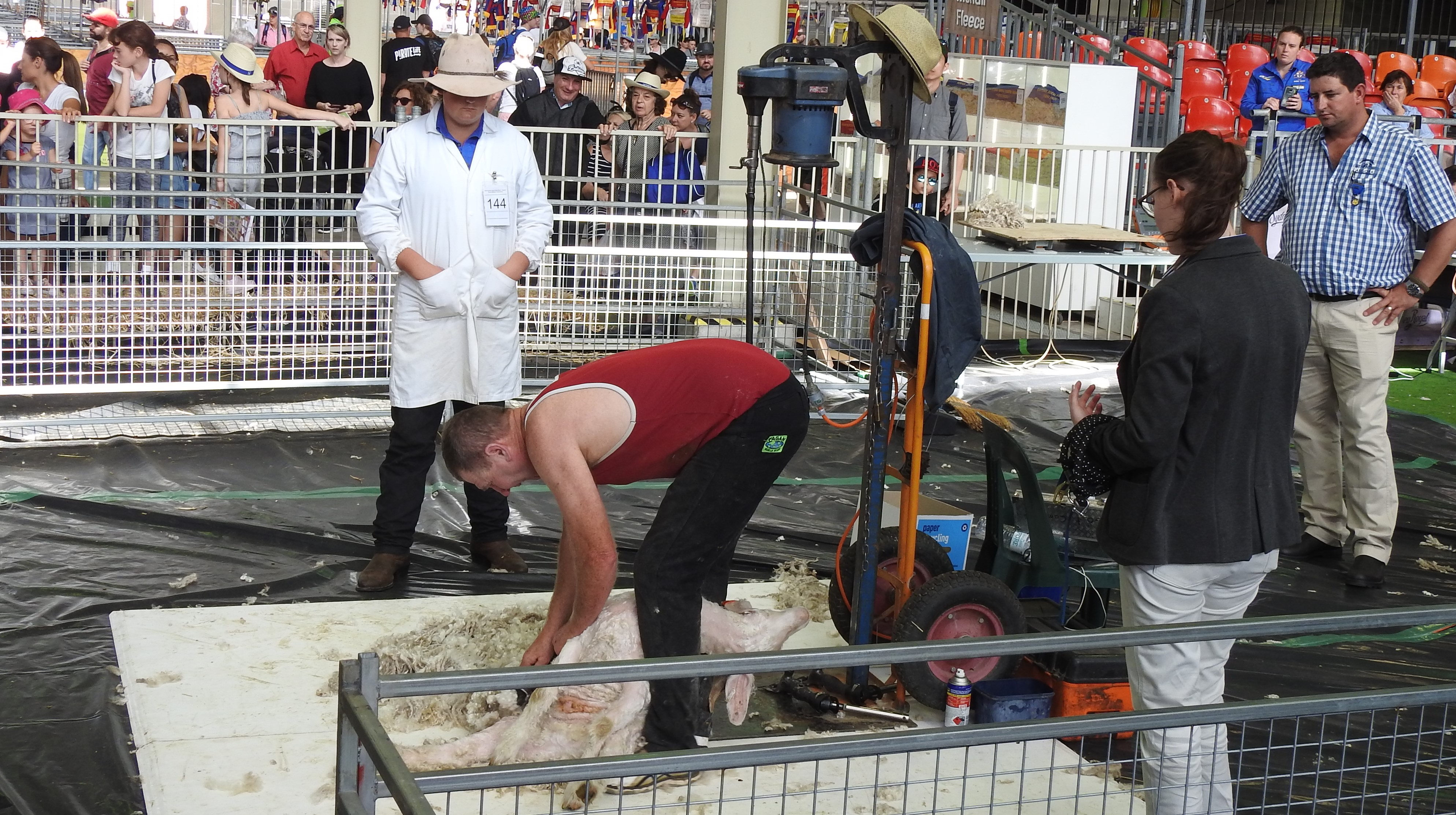 George Hope supervising wether shearing at the 2019 Royal Easter Show
Cullbookie has another big result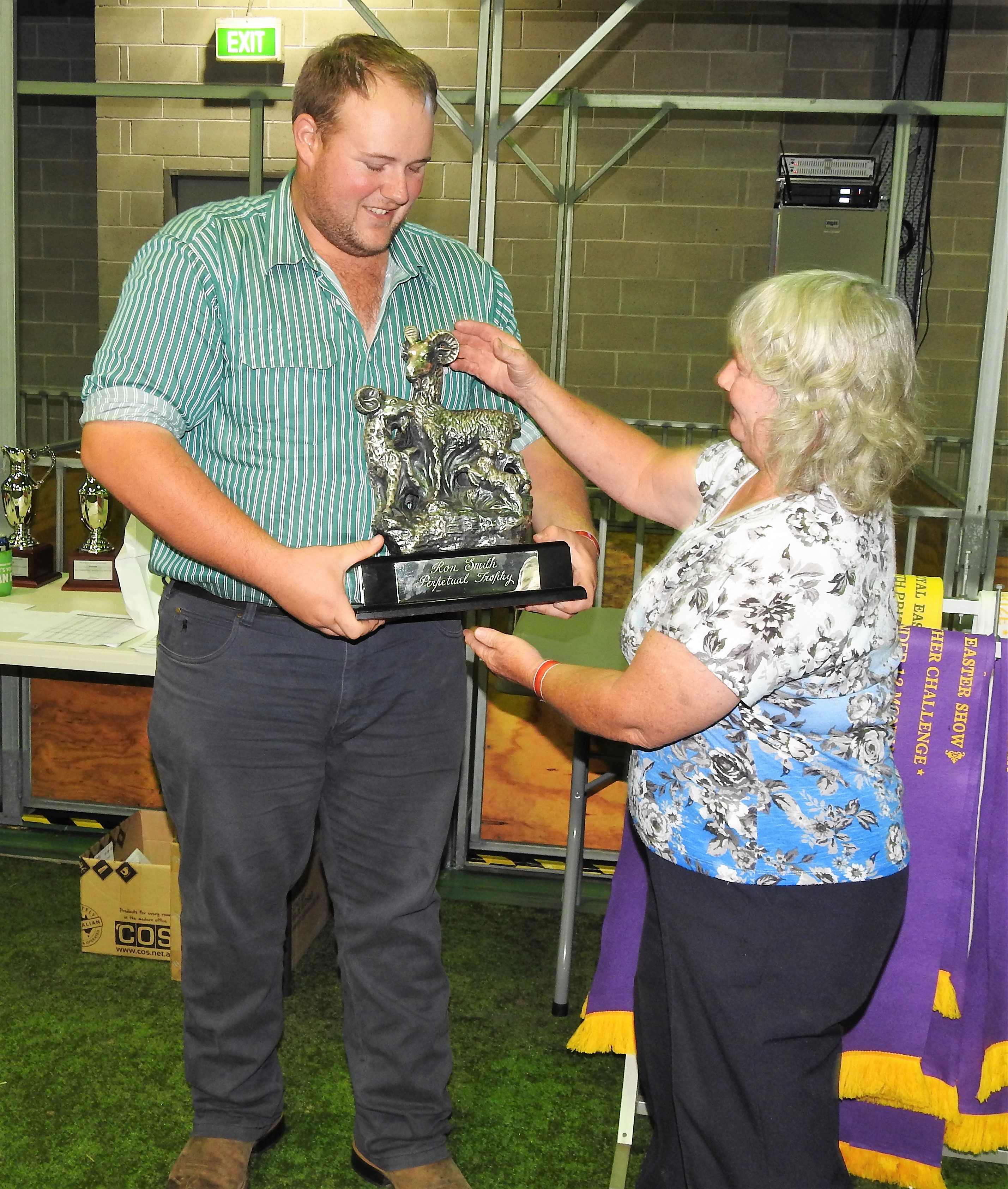 Debbie Scattergood receiving the big "lump of silver" – the Ron Smith Perpetual Trophy for best in show. (The trophy is a cast silver sculpture made in the USA depicting American Mountain Goats. The trophy rotates annually through the 3 goat sections at the Royal Easter Show.)
Information for discussion
South Africans working hard on image and practice.
Now here is some interesting reading. Click the link below to see the guidelines developed for South Africa. This is a very detailed document and it shows how serious the South African industry takes the development of a public image and an industry practice. Some points:
* This is a South African document covering South African issues which, in general, are similar to the Australian situation.
* South Africa has at least two issues (environmental damage from overgrazing and social problems of race and working conditions) which are not as serious in Australia.
* Africa has many more disease and parasite issues not encountered in Australia.
* This document provides much detail and outlines specific problems and their possible solutions but (possibly) does not go far enough when it comes to of an acceptable method of implementation at an industry level.
* What is "acceptable", and how do we prove it, and to whom? These questions apply to the Australian mohair industry as well.
South African Sustainable Mohair Production Guidelines

AMMO eNews
AMMO continues to provide an excellent update on current issues in mohair marketing
Click for AMMO eNews autumn 2019
South Africa leads the world in thinking Mohair
Watch the Mohair South Africa Brand Film (come on – its not hard. Go to "Partners, Mohair South Africa and click the clip"). Think about the messages!!!!
News
2019 NATS
Click for results
CULLBOOKIE – Clean sweep of the NATS
Click for more photos and summary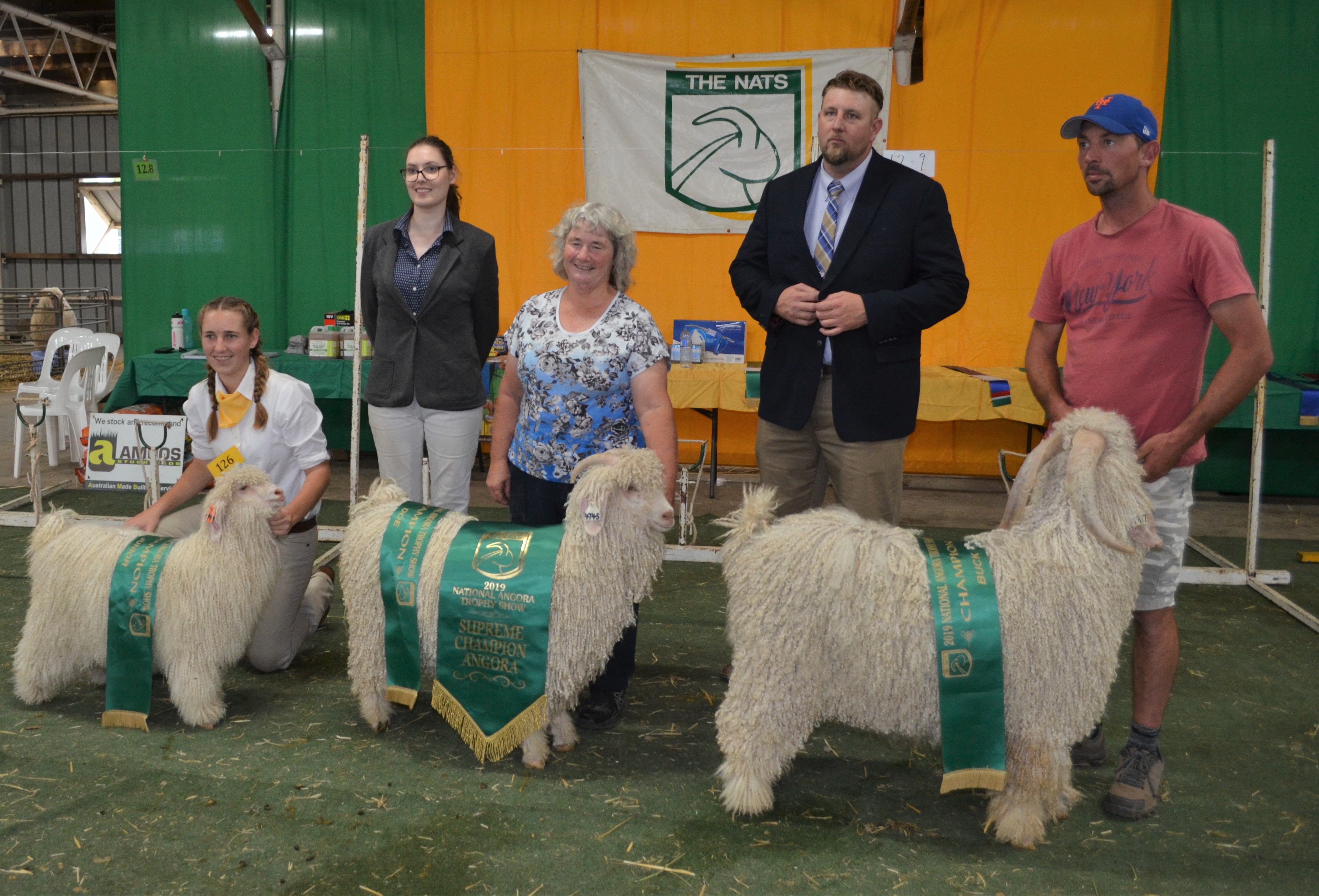 Great effort from Queanbeyan High School

The Does
Click for photos and results for the NATS 2019 Does

The Bucks

Fleeces
Click for photos

NATS 2019 Candids

March 8-10 NATS SHOW & SALE Goulburn
Foot and Mouth Disease in South Africa
. Apparently there have outbreaks of Foot and Mouth Disease in Limpopo Province of South Africa. This province is the northern most next to the Zimbabwe boarder and a long way from the Karoo. But still, the outbreaks are likely to curtail any prospect of the Australian authorities allowing Angora embryos to be imported in the near future.
AgriFutures Australia's big conference – February in Melbourne
Planting seeds of inspiration to a sold-out crowd at evokeAG.
"Data is the new gold." "We grow plants in warehouses as opposed to green houses." " Focusing on startups is not high risk. High risk is to continue doing what we have been doing for the last 30 years."
Click for evokeAg
The Herd Book is now running from this site.
Membership for 2019 is now overdue.
Please note that you should complete the entire
FORM
, with
current details.
January 2019
Diamond Fibre  Show, Bathurst 27th January.
A great day with small entries but still allowing Youth Judging competition and a group of "Associate Judges".  A really great team of animals prepared and exhibited by Windy Reefs.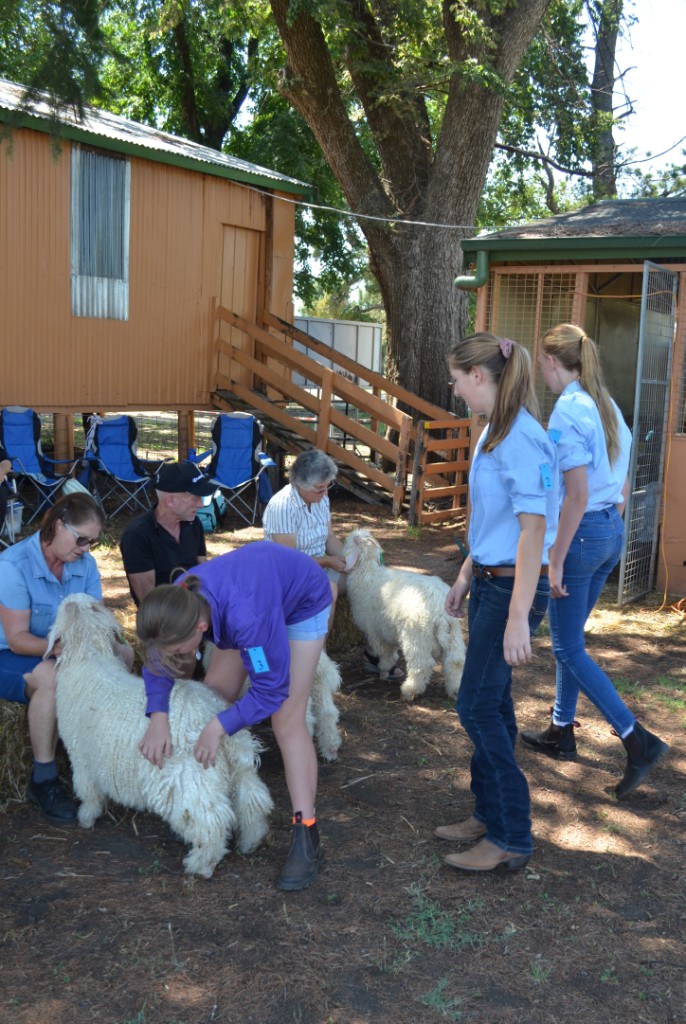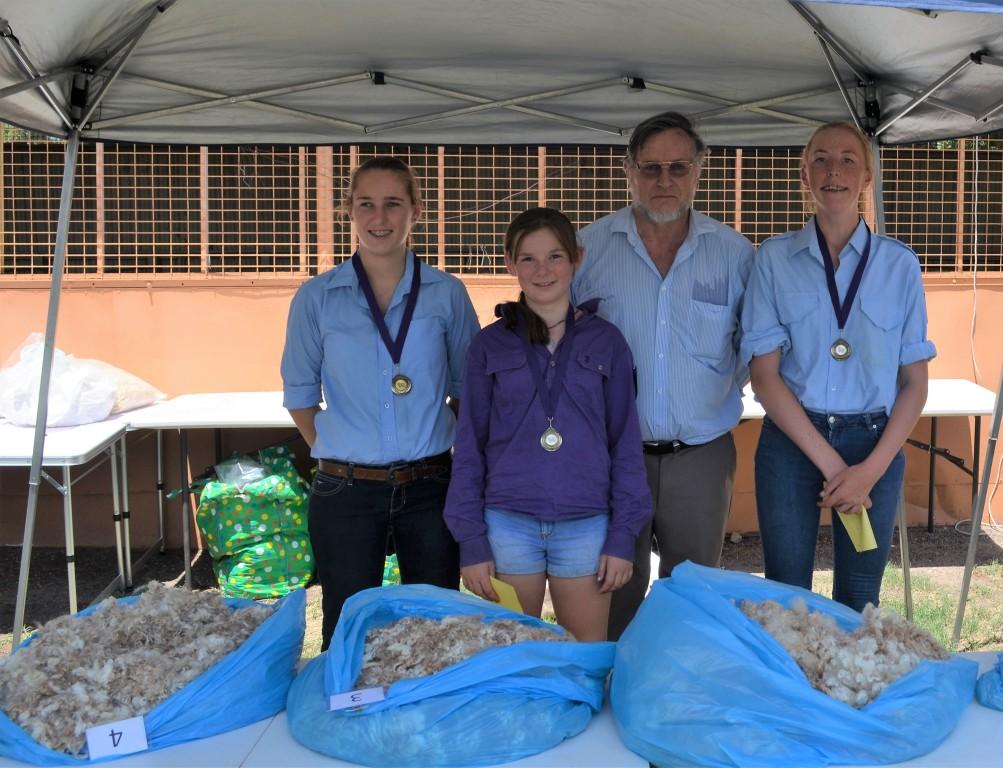 Albion Park 19th January.
A lovely cool day in the middle of a heat wave. Mundroola, Winder and Wilton Park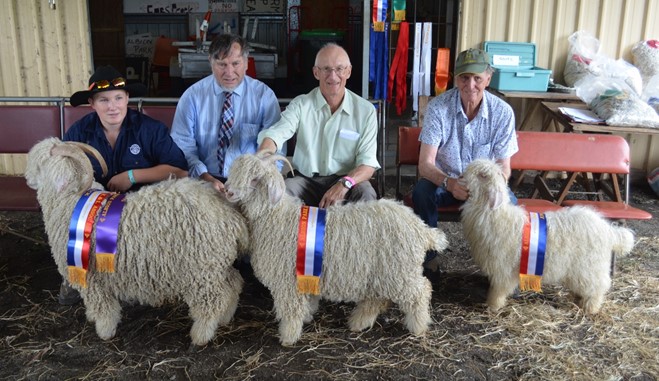 Click here
for the
AMMO B2018 News Letter.
NOTE. The two big unsold lots of DFFH have been sold – see the updates catalogue summary
Click for December News letter
Important comment – November 2018 The NEW Challenge to Mohair Marketing
New England Wool has purchased a small amount of mohair at the last half dozen sales. The company specialises in high quality lines for European mills. Any additional buyer to the AMMO sales is important since it adds competition and has the effect of raising prices. However, NEW has its own agenda and has developed a Quality Assurance system (Sustainawool) to assure its European interests that it is working to develop sustainable and ethical production of the wool it purchases. This brings forward the foreshadowed concerns from mills that Australian wool be free of chemicals and produced using high animal welfare standards. Of interest is the question of who was going to be the authority to implement methods to make the assurance program work. The answer seems to be the buying company. In implementing the QA program for wool, it will buy, NEW has taken on a considerable responsibility. To ensure that grower declarations are factual it proposes an "membership" and audit process. Presumably the company with either have its buyers visit wool producers or contract auditors to carry out the work. It should be said that the QA system as outlined (see
www.newenglandwool.com.au
) is not that much different from the MLA's LPA system (which is currently audit able), with the inclusion of animal welfare provisions from the AHA welfare and handling guidelines. So where does this leave the Australian mohair industry? Since NEW has not developed a mohair version of Sustainawool, it has withdrawn from the AMMO auction. Subsidiary questions would be: Does it matter? YES! What will in mean for the wider wool industry? HARD TO SAY, since maybe we don't know what other wool buying agents' clients will so. Will Wool Innovation react and how do we (the mohair industry) react? As stated above, there have been rumors of concerns about chemical residues and welfare for some considerable time with hints of some form of QA being required by mills and the general public. To date it's been too hard, so nothing has happened. Of particular concern has been the news reports of mishandling of Angoras in South Africa and calls for boycotting of mohair, so the issue is altogether too close to home. One might ask what is Mohair South Africa doing about it but that is probably beyond out control. Closer to home, what is AMMO doing about it? The difficulty with Australian mohair marketing is the fibre is bulk classed. Systems like Sustainawool works for individual clips sold under grower lots but how do "we" (AMMO) organise certification of bulk lines? Maybe AMMO could have certified and un-certified lines but who, in the mohair situation, is the authority? And would buyers' mill clients believe in the process. It's really all about perception and that means it has to be perfectly true AND believable. It would seem that mohair production is Australia has suddenly become a lot more serious. Mohair is the product, not a by-product of the stud breeding system. We really do need APMC (or maybe just MAL) to organise and lead industry in this new environment. We need a joint effort from all growers, MAL, AMMO, PAM and the buyers. Doug Stapleton.
November
Mohair Australia Ltd AGM Narrandera Ex-Services Club, Saturday 24th Nov 2018, 1.30pm. RSVP required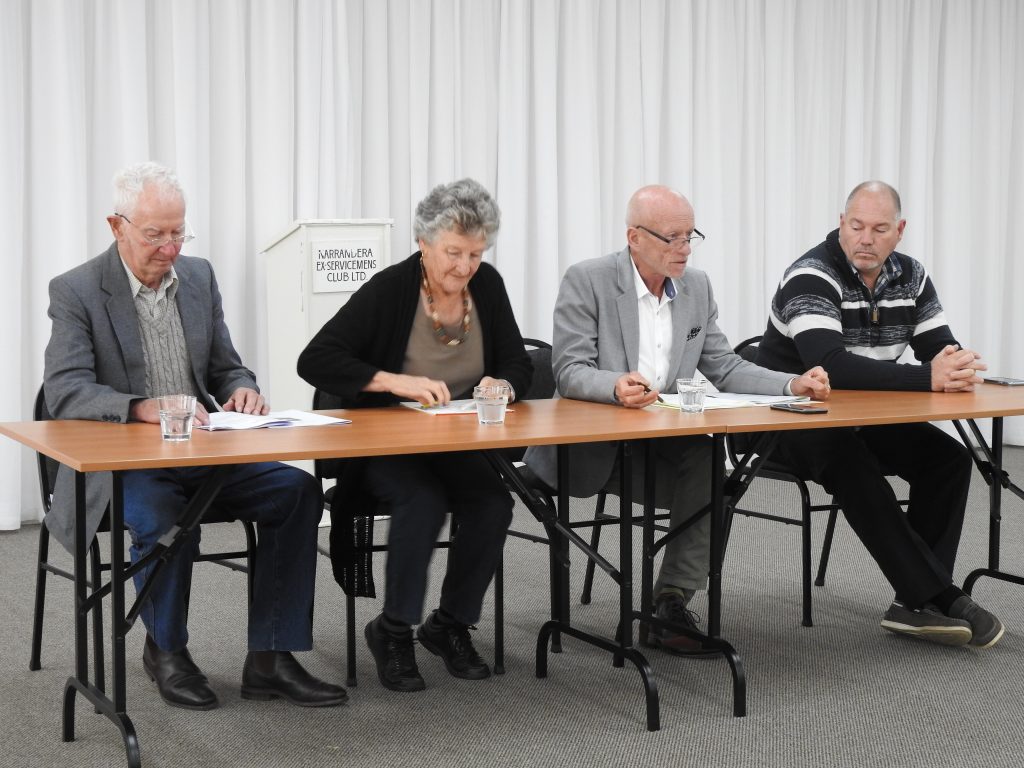 Bill Smith, Sandy Smith, Steve Roots and Raymond Williams – the Mohair Australia Board
The AGM Weekend.
Both AMMO and Mohair Australia held their AGMs on Saturday 24
th
following the AMMO sale on Friday 23
rd
November. The mood of the industry might be described as subdued but supportive of the respective Boards. Charlie Bell was accepted as a Director of AMMO. Discussion centred around the issue of "Sustainability" which was defined is several ways including economic, environmental and consumer assurance issues. The withdrawal of New England Wools from the Australia market due to lack of grower accreditation for animal welfare and chemical use clearly emphasised the need for the Australian mohair industry to implement accreditation systems. Both AMMO and Mohair Australia agreed to work to develop such an accreditation system which would be both auditable and acceptable internationally. It was stated that South Africa has implemented such a system which included catalogue and bale branding of accredited grower's mohair. Growers without accreditation were said to suffer as much as a 25% discount at auctions. Mohair Australia has already received approval and assistance from AgriFutures Australia to commission a documented methodology to be implemented within 6 months. It is clear that this is a must, not an option. Growers are advised that they will need to examine their production systems to ensure they can comply with both husbandry and welfare requirements. Other issues to be discussed were communications and policy information. The development of the new web site at
www.mohair.com.au
was discussed with the need for a Facebook page. Volunteers were called for to help with a Facebook page. Input in terms of suggestions, articles and photos were invited to fill the mohair.com.au site (send to
[email protected]
). The watch word which was adopted was "proactive, not reactive". DS
Australian Mohair Marketing Organisation Mohair Sale and AGM, 23rd Nov. 2018. RSVP Required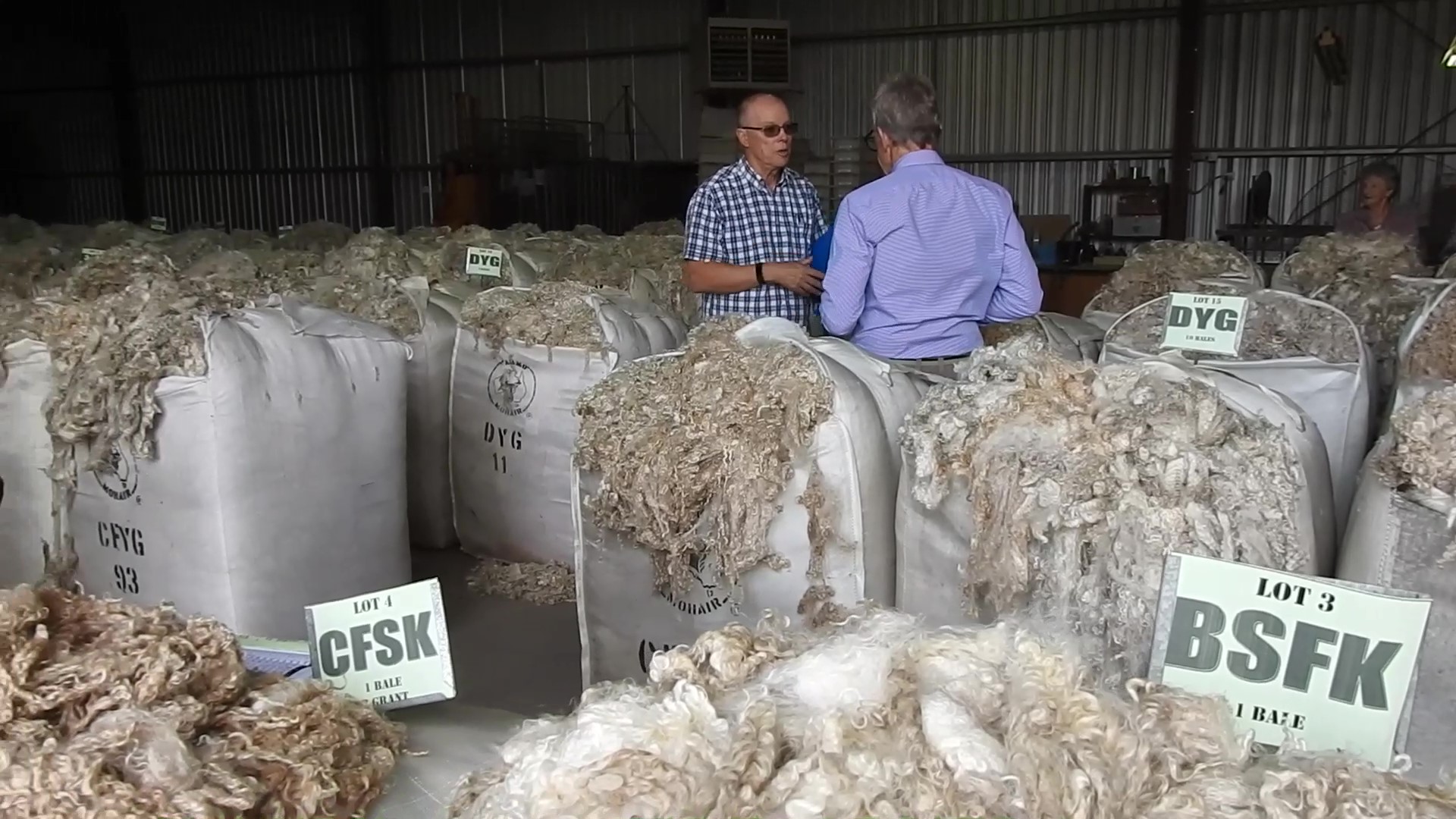 Click here for independent report on the B2018 AMMO Sale 
Click here for the catalog and prices
November
17th  Hunter Region Christmas Party Singleton NSW Sandie Smith 02 4938 7536 Dandenong Show Dandenong Vic
October
13/14 Picton Show (fleeces only) Picton NSW Reg Scott 02 4657 2293
Click for Mohair New October
September
20 Hunter Region Meeting Heatherbrae NSW Sandie Smith 02 4938 7536 September 8/9 Berry Small Farms Day Berry NSW Reg Scott 02 4657 2293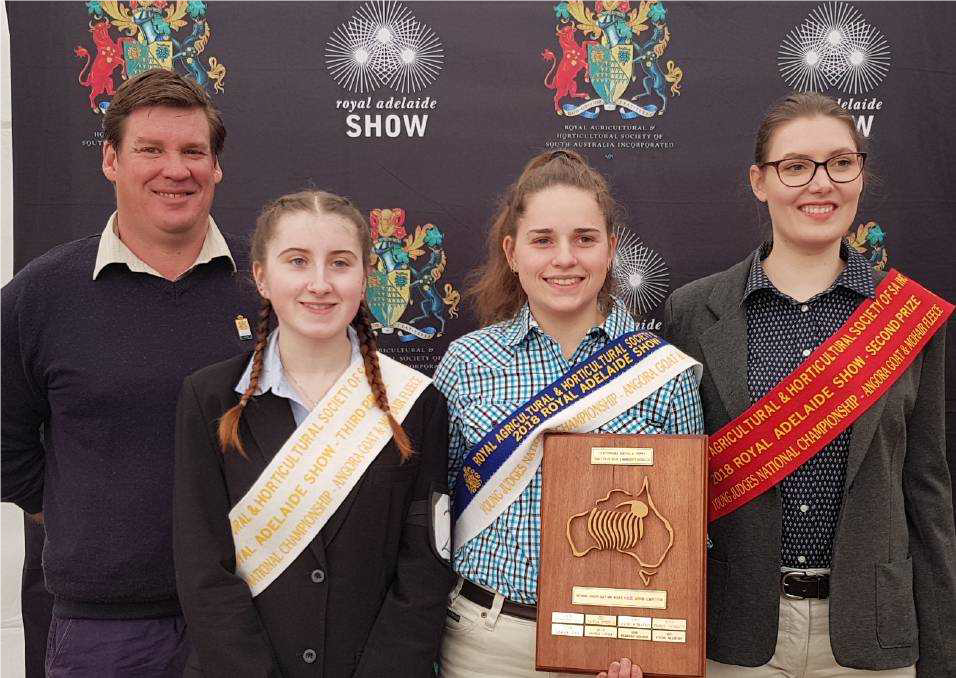 August
31-9 Sept. Adelaide Show Adelaide S.A.
July
Click for Mohair News – August
Bendigo. Open and Victorian State Final Young Judges winners with Judge Daryl Finch. L to R: Sarah Morris, Molly Cattle, Judge Daryl Finch, Mick Saenyen, Jaycee Ferguson and Tsomo Lakatsang.
July
Trangie Junior Judging Senior results in Angora section for the Senior's 1st Brooke Elsley, 2nd Dakota Williams, 3rd Emma Turnbull, 4th Charlie Gillespie & 5th Grace Neeves . Junior age group 1st Thomas Rose, 2nd Sophie Maclean, 3rd Laughlin Wilshire, 4th Kyotee Williams, 5th Charlie Banks. For more Photo's got to https://www.facebook.com/trangiejuniorjudging/ .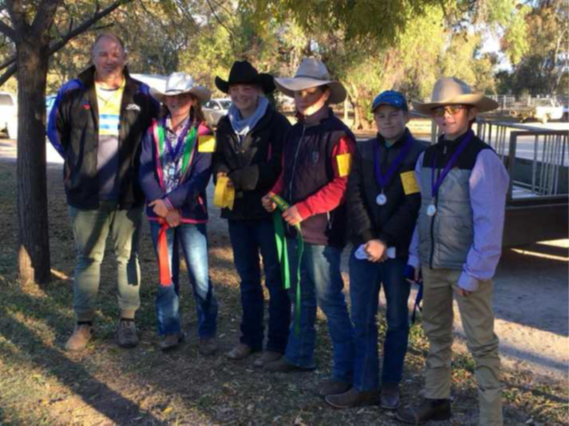 April
Sydney Royal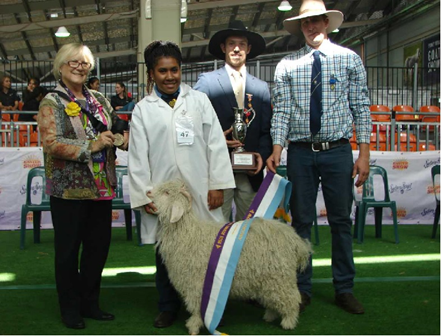 NATS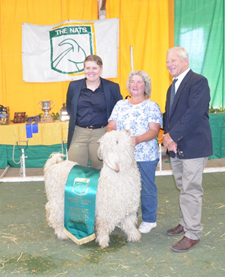 Camden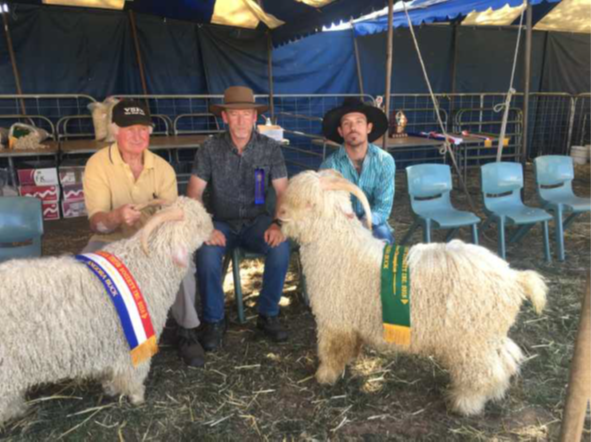 March
Goulburn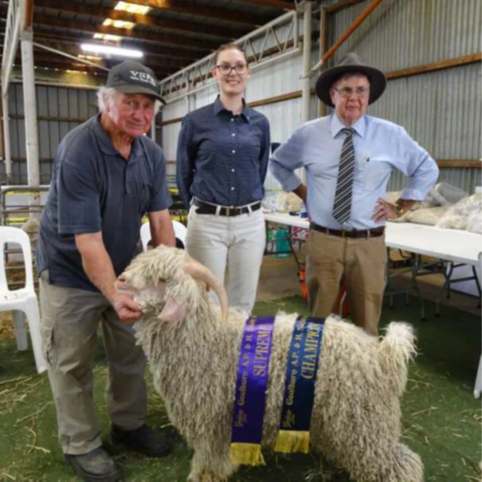 February
Tasmanian Anual Angora Show
Judge: Mr GT Ferreira Supreme Angora 
Granary Lea Angoras G374 Moonshine, C. Buck. Granary Lea Angoras P307 Victor, R.C. Buck  Granary Lea Angoras Ar253 Thor, R.C.Doe.   Ranga Wagga Angoras 28 Isabella, C.K. Ranga Wagga Angoras 28 Isabella,