Dear Members and Growers,
The April Mohair News was held over to include a write up on the recent Sydney Royal Easter Show Mohair Fleece and Angora Goat show.  It has now been posted to all members and growers.    There are a few typos which will fixed up for the online PDF version, it has been loaded up onto this website under the Newsletters tab.  We have also loaded up the latest Clippings newsletter from Lil Roberts in Victoria and the Winter edition of Hunter Region Newsletter.  If you have any updates, information or events do not hesitate to share them with us so we can include them on the website and future publications to the members. 
Rivers wins Best in Show at Sydney Royal Easter Show 2022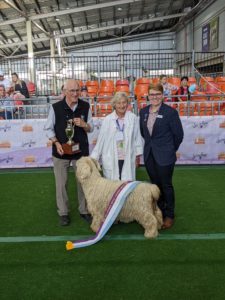 Pictured is Reg Scott, Mohair Australia NSW Division, Judge – Morgan Mrowka and Helene Ypma with Rivers 1906.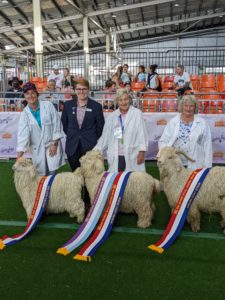 Pictured is Helene Ypma holding Rivers 1906 alongside the two other champions from Cullbookie Angora Stud with Debbie Scattergood holding the buck.  Jess is holding the Champion Junior doe kid for Debbie.  Judge is Morgan Mrowka in the dark coat.  
Tasmania Division Annual Show 2022 report
The website has been updated to show the results from the Annual Show, held at Deloraine on February 20. You can find the report here.
National Angora Trophy Show (NATS) Update
Cullbookie Valentino wins Supreme at NATS in 2022.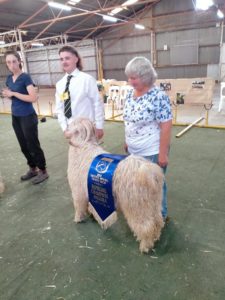 NATS was held at the Peden Pavilion, Goulburn Showgrounds on the 11 and 12 March 2022.   Judge was John Hornweg from Victoria.   Please click on the link to download the schedule.  Click this link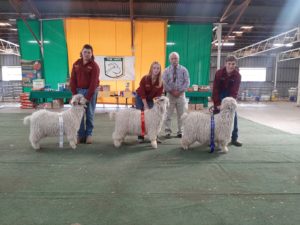 Check out the facebook page National Angora Trophy or #NATS2022 for updates.
FIELD DAY Report from Tasmania
The Mohair Australia Tasmania Division have their own website which has been updated to include a report on Goatfest.   Click this link. 
ON FARM SALE Report – 8th January 2022
Dulark and Lynndon Grove Angora Studs Sale held on the 8th January 2022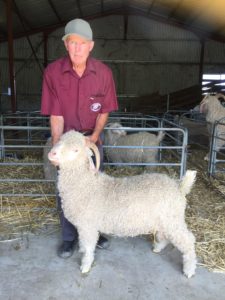 The vendors Nick & Kate Gorrie and Lynne and Don Carter were both very happy with the clearance and attributed the very good results to good local support, underpinned by strong demand from Western Australia and Queensland.
Lynndon Grove averaged $2630 for stud bucks. 5 out of the 7 sold. In the stud does Lynndon Grove averaged $438.90 with 100% clearance will all 9 selling under the hammer. Top price buck was Lot 6 Lynndon Grove Xion for $2800 sold to Jacob Stevens from Qld. Interestingly Lot 1 Lynndon Grove Usher and Lot 3 Lynndon Grove Wilbury sold to a new WA client for $2500 and $2650. Lot 7 Lynndon Grove Xaviel was sold to another new WA stud for $2500. Equal top price in the stud does was Lot 29 and 31 which sold to new WA stud interests for $500 each.
Dulark Stud bucks averaged $1430 with 10 out of the 17 offered selling under the hammer.  One more privately after the sale.  Top price buck was Lot 17 Dulark Stunning Boy which sold for $4300 plus Gst to Joseph Keates from QLD. Other stud buck highlights.
Lot 10 – Dulark Lance sold for $1700 plus GST sold to Susie Paterson from Qld.
Lot 11 – Dulark Laser sold for $1700 plus GST sold to Herman Van Haeff from Billimari NSW
Lot 14 – Dulark Abraham sold for $1600 plus GST to Dr Sue Jordan from WA.
The old boys (lot 8 and Lot 9) sold under the hammer to local Yass support and Joseph Keates from Qld respectively.
In the stud does equal top price was Lot 38, 40 and 41 which sold for $900 plus GST to Susie Paterson from QLD. The stud does averaged $530 with 100% clearance.
The groups of Dulark future breeders and Dulark proven mixed aged breeding does all sold under the hammer. The prices were $200 a head and $180 a head for each group respectively.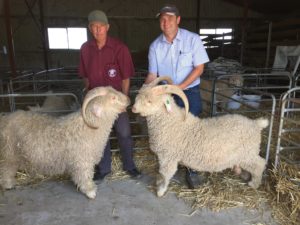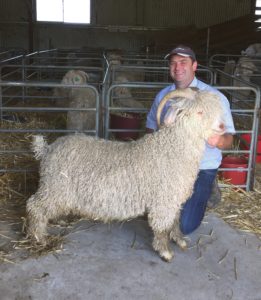 Yours sincerely,
The team at Mohair Australia Ltd.     
Navigating the site
The News page is the logical place to start. Each page has a purpose so you can go there to check. We will update pages occasionally.
Breeders may well want the Herd Book so clicking the second last Name along the top will get you to the start. You need to sign in to see anything other that the membership list and the basic Herd Book information. Under the Log In, enter your membership number as the ID and your password which you get from the registrar – email or phone.
Without logging in you can search the Herd Book on Stud Name, Tattoo or Herd Book Number. ONCE LOGGED IN YOU CAN ENTER A NEW ANIMAL, TRANSFER RECORDED ANIMALS TO ANOTHER MEMBER, or LIST YOU HERD. This last command allows editing you flock to active animals (as opposed to inactive and/or deceased) to reduce the number of animals in your drop down box of breeders. You can always resurrect breeders if you have not recorded progeny before the stock take.