News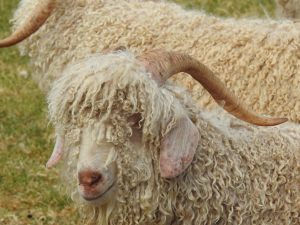 This page includes: Important comments, and a list of future and past events with selected photos and results
The international textile market has a strong appetite for mohair at the moment and future prospects are looking really positive. As reported internationally demand is up and supply is low.    In Australia the total annual production of mohair is approximately  80,000 – 85,000 kg per year which locally is down from the 131,344 kg forecast in the 2004 survey from a total of 34,000 Angora goats running across Australia.   The split at that time was 23,375 does, 1,195 bucks and 9,320 wethers.  Many current producers entered the industry in the early 80's and are of a similar age bracket.   With record farm property prices it makes sense some people will exit and retire. Our challenge for the entire industry is to find new producers.
Result for the National Board nominations
Dear Mohair Australia,
I received 5 successful nominations and 1 late and therefore not accepted nomination for the 5 vacant national board positions of Mohair Australia Ltd.
A national election is not required.   Therefore the new national Mohair Australia Ltd board will be :
Vicki Winley – Tasmania
Lynne Carter – South Australia
Sue Jordan – Western Australia
Grant Forsdick – New South Wales
Nick Gorrie – New South Wales
They will officially start their national board duties from the Mohair Australia AGM on Thursday the 25th November 2021.
Yours Sincerely,
Joanne Collins
Receiving Officer
Covid 19 Update for regional NSW
Your business needs to follow these safety rules
All businesses within NSW including regional NSW must:
Refer to the relevant state government website for up to date safety rules.
Navigating the site
The News page is the logical place to start. Each page has a purpose so you can go there to check. We will update pages occasionally. Breeders may well want the Herd Book so clicking the second last Name along the top will get you to the start. You need to sign in to see anything other that the membership list and the basic Herd Book information. Under the
Log In, enter your membership number as the ID
and your
password
which you get from the registrar – email or phone. Without logging in you can search the Herd Book on
Stud Name, Tattoo or Herd Book Number
. ONCE LOGGED IN YOU CAN ENTER A NEW ANIMAL, TRANSFER RECORDED ANIMALS TO ANOTHER MEMBER, or LIST YOU HERD. This last command allows editing you flock to active animals (as opposed to inactive and/or deceased) to reduce the number of animals in your drop down box of breeders. You can always resurrect breeders if you have not recorded progeny before the stock take.