Partners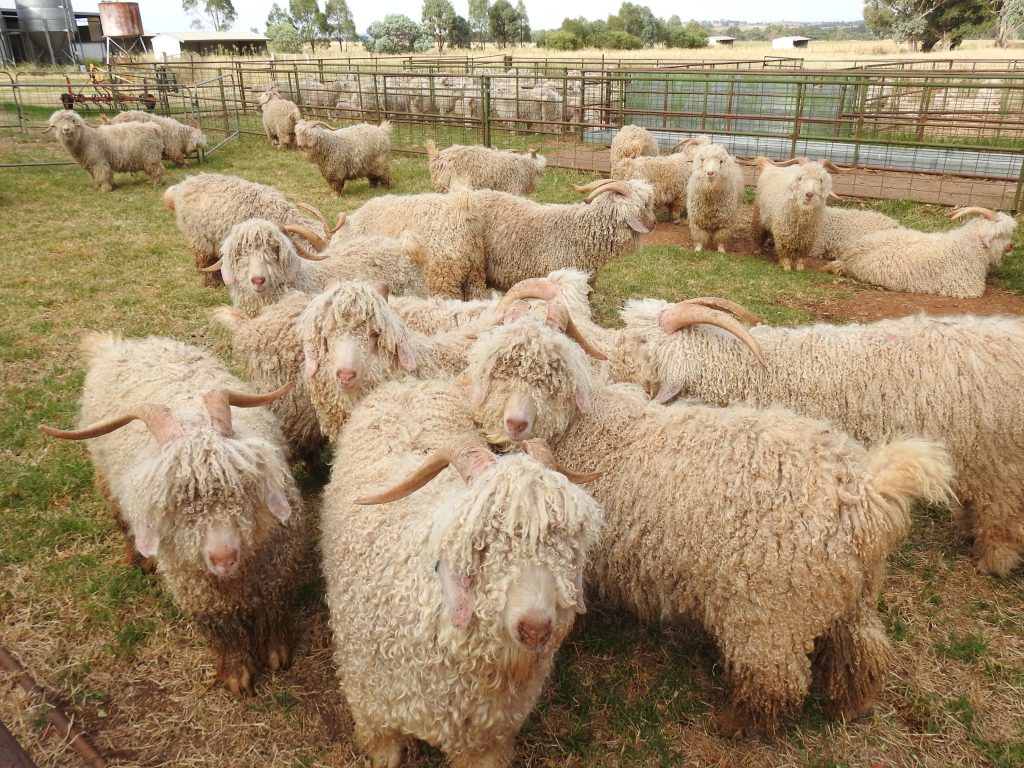 This page includes: links to Australian and overseas sites related to Mohair, an overview of clip preparation and marketing in Australia, and sale reports of the AMMO sales.
Australian Mohair Marketing Organisation (AMMO)  Click here
Animal Health Australia (AHA)  Click here
AgriFutures Australia  Click here 
NEW – Agrifutures Goat Fibre Program Strategic Research, Development and Extension Plan 2021-2026 Click here 
Meat and Livestock Australia (MLA) Click here
Goat  Industry Council of Australia Click here
Mohair South Africa Click here
American Angora Goat Breeders Association Click here
Skirting, classing and selling your mohair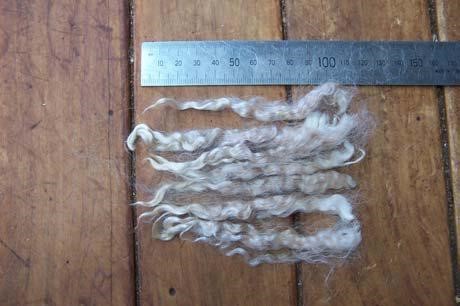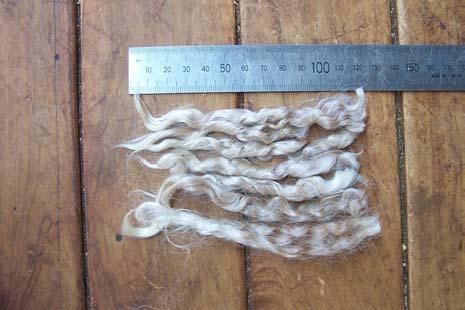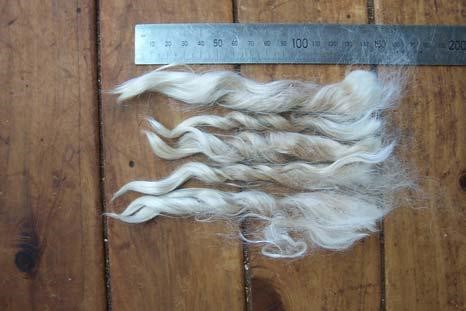 Clip preparation starts with the previous shearing. Timing of shearing is important. In areas where there are significant weeds which can contaminate the fleece, shearing just before the seeds become a danger is important. Remember there is also a seasonal moult in late August which can make some animals difficult to shear. Shearing later in September or October can result in cotted (matted) fleeces from fibre which has shed from the skin and moved through the fleece. Good feed conditions may accentuate this problem.
Since fleece length is important it is necessary to shear every 6 months. Young animals grow longer fleece and kids can be shorn first even if they have only 5 months growth. Adults usually need the full 6 months to reach "C" length (10 to 12.5cm) which is the most common sale length. Fibre which is between 13 and 16cm is classed as "B length.
The fleeces must be skirted. This means removing stains, short pieces and vegetable faulted pieces. Many animal have a strong neck and this fibre also needs to be removed from the main fleece. Each type goes into a different line. ie. LOX (dark stains), STN, D (7-10cm), V (vegetable faulted) and a fleece line 1 or 2 grades stronger, respectively.
You need to work quickly because you have to keep up with the shearer(s). Heavy vegetable fault over about 5% is of little or no value since the process of Carbonising is expensive and destroys the lustre of the mohair.
Classing. This required you to place the skirted fleece into a particular fineness and length line. Age is an important factor and you could do worse than just put each age group together. However, visual fineness can be used to split an age group into 2 lines – finer and broader. Resist the temptation to class more lines, and to put mohair from different age groups together even if they look the same. Testing has demonstrated that such efforts do not improve the overall measured fineness of lines and may actually result in some lines being broader than you expect. Your Broker will assess fineness when he places your fibre in a sale category.
The photos demonstrate the increasing crimp size from Fine Kid through Young Goat to Fine Hair. While not an absolutely accurate figure these three types average 24, 31 and 35 microns in fibre diameter. First shearing usually goes into Fine Fine Kid (FFKID). Second Shearing usually goes to Fine Kid (FKID) and Kid (KID), Third shearing can go into Kid (KID) and Young Goat (YG). Later shearings are usually Fine Fine Hair(FFH) and Fine Hair (FH). While some adult fleeces look finer, testing usually places these fleeces in the FFH type rather than the YG. On particular properties with particular nutrition and breeding, fleece may be finer, or stronger, than these guidelines. Older does, older wethers and Bucks may produce very strong fibre classified as Hair (H) and aged does may produce kempy and poorly structured fleeces which are placed in the FHKK line.
Kemp and poor styled mohair. Kemp is the chalky white, pointed fibre sometimes seen in mohair, especially as the animals age. This fibre is placed in the (K) line eg CFFH(K). Under poor feed conditions mohair fleeces can be cross fibred and "mushy". Such fleeces usually go into a "second style" line (eg CFFH2) or are placed in the (K) lines.
Pressing. Efficient transport requires pressed bales. Bale weights of about 200kg are required. Use new wool packs, writing only on one flap. Place the largest line on the bottom and separate lines with news paper. Keep a record of all lines in the bale and indicate what each line is both on the news paper and on the flap. Great care is need to ensure no foreign matter is pressed with your mohair.
Small clips can be bagged and placed in a wool pack for delivery but don't expect commercial carriers to handle such unpressed bales. You might seek co-operation with other growers to bulk clips together in pressed bales.
Delivery. Brokers usually have a number of collection centres and can arrange delivery but the responsibility is up to you. Try to dispatch your mohair as soon as possible after shearing to allow time for the Broker to process your clip. Brokers There is now only one mohair Broker in Australia – Australian Mohair Marketing Organisation (at Narrandera). AMMO has 2 to 3 auction sales per year. Fibre can be delivered to receival centres or sent to Narrandera for classing using a standard set of types.
Buyers. At present there are four. From time to time other buyers become active and purchase small amounts of fibre. Several of the Buyers will purchase fibre direct from growers by private treaty but you usually have to deliver the fibre to them and accept their offer.
Sale Reports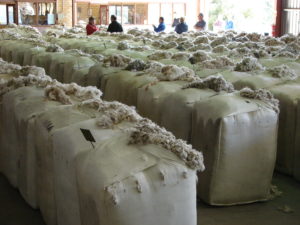 AMMO 2018B Sale Report.
D L Stapleton
Below is an independent sale report on this sale. The offering on 23rd November 2018 was of 25,206kg in 38 lots. Top price of $42.00/kg greasy went to the 2-bale lot of BSFFK (26.2um). Four lots of FK sold at $37 to $38. The sale averaged of $23.46 with a 78% clearance. Several large lots of DFFH (22 bales) remained unsold with bidding reaching $21.30 before being passed in. It is expected that these lots will sell next week………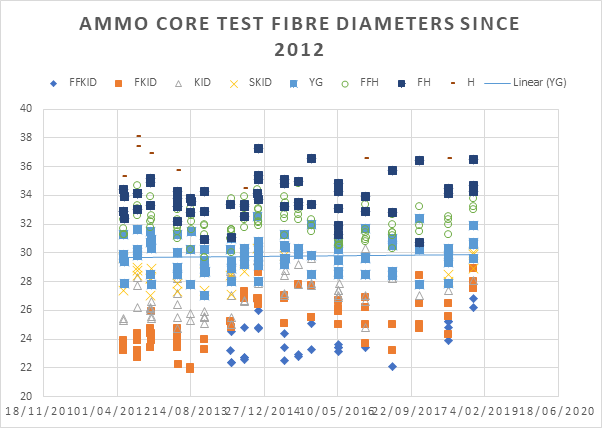 Click here for the catalogue and prices. Click here for the full report and prices.
AMMO A2018
Independent report on the auction held on 1st June 2018 – Narrandera.
Friday's auction produced a remarkable result with prices rising
considerably on those achieved at the B2017 auction in November. The offering
comprised 28,138kg in 155 bales (46 lots) and achieved a 98% clearance at an
average of $24.52 per kg greasy. Four buyers participated with a top price of
$42.50 paid for 1 bale of BSFFK (23.9um).
This was the first sale prepared using the revised classing schedule
developed by AMMO over the last 6 months. A feature of this schedule was an
attempt to match the type descriptions used in South Africa. Length
descriptions have been adjusted such that A now refers to fibre of 15 to 17cm,
B from 12.5 to 15cm, C from 10 to 12.5, D from 7 to 10cm, and E under 7cm. The
term LOX now refers to heavy stained fibre rather than sweepings.
These changes need to be understood when interpreting the test results and
lot prices in the table which can be accessed below. In the past the largest
lots were referred to as B (eg BKID, BYG, BFFH). These major types are
now referred to as C length (eg CKID, CFYG, CFFH).
While the offering was somewhat smaller than that of the same time last
year, the classing appeared to be considerably improved. Greater use of length
criteria and a clearer separation on fibre diameter were evident.
FFK lines sold at $36 to $42/kg greasy, FK $30 to $36, K(ID) to $34, FFYG
and FYG types from $27 to $32, FFH at around $26, FH at $19 to $24 and H at
$20. Out sorts sold strongly with SCOT bringing $27 and STN $23.00.
As in past sales the amount to short (D and E) and poorly defined (2nd style and mixed) fleeces types was disappointingly high. This leaves some room to improve shed classing and adjustment of shearing times to increase returns. DS
Click here for A2018 catalogue and prices http://mohair.com.au/wp-content/uploads/2018/10/A2018-Auction-Result.pdf
AMMO 2017B
Independent
report of the auction held on 2nd June 2017.
At the
first auction for the year AMMO offered 34,568kg in 52 lots. For the first time
in 36 years Mr Ian Laycock was absent from a mohair sale due to medical issues.
We wish him well and hope he can make a good recovery. Attendance at the
auctions by several other regulars might be coming to an end as well with the
distinct possibility of a major changing of the guard at the B2017 sale.
Nevertheless, the sale demonstrated that life goes on and that gaps can be
filled.
Bidding
was brisk though a number of lots failed to reach reserves and were passed in.
Fine Kids sold to $25.90 with Kids bringing around $20, Young Goats around $19
and Fine Fine Hair at $18/kg greasy. Cots and Stains again sold well and
brought from $13 to $16. Multiple faulted lines failed to sell and several
obtained no bids at all. Perhaps growers should look more carefully at their management
to attempt to rectify these problems in their mohair.
As a
further comment on quality, the amount of C length (and even D length) fibre is
of continued concern.
On the good side the continued production of finer fibre presents an attractive "top end" to quality of Australian mohair. Perhaps the narrow margin of prices between Kids and Young Goats (and even FFH) lines can be attributed to generally finer lines from adult animals. Kid and YG lines often overlapped even FFH lines delivered test results of less than 32microns. Despite this, some coarse hair was evident in some lines leading to the comment that growers could do better and remove noticeably broader mohair from their main fleece lines. DS